Commercial HVAC Services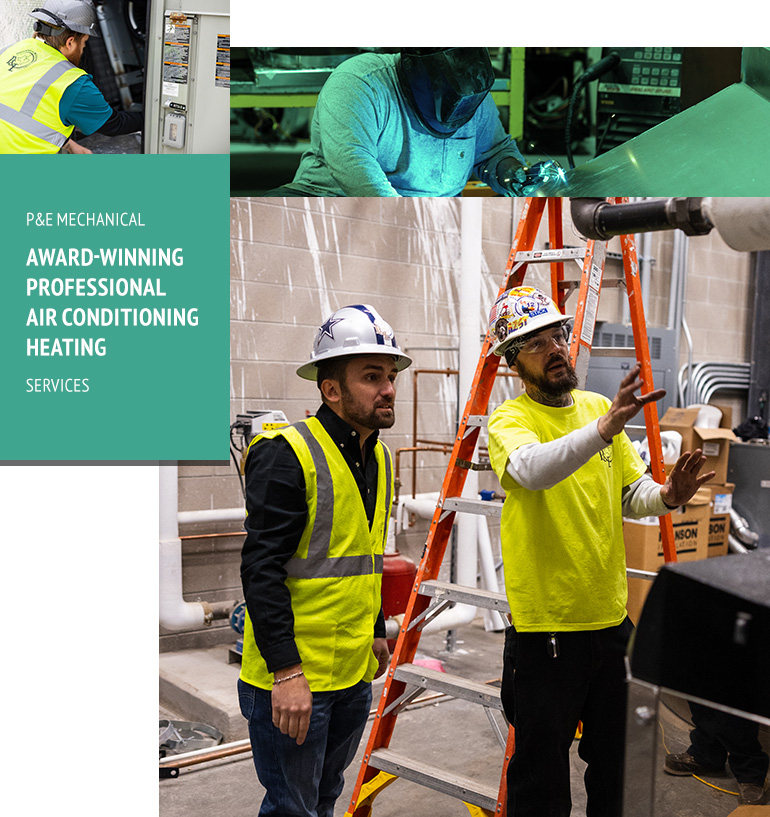 Commercial HVAC That Drives Your Business
P&E Mechanical has established a reputation among business owners in Central Texas for the highest level of commercial HVAC services, and the least amount of downtime in the industry. Our focus on prompt, efficient work and reduced downtime has made us the go-to company for preventative maintenance and commercial HVAC repair, as well as full tear-down and ground-level commercial HVAC installation projects. We look forward to the opportunity to show you how our company operates and how our practices can help your business.
We understand that when commercial air conditioning units fail, your business suffers at all levels. While many commercial air conditioning companies claim to be responsive to the needs of their clients, P&E Mechanical has a proven track record of keeping our business customers satisfied with accurate and timely estimates, professional and courteous service, and competitive pricing.

Experience In A Wide Range Of
Commercial Air Conditioning
Projects
Our commercial HVAC division has set the bar in terms of industry experience among commercial contractors in Central Texas. Our portfolio of projects includes small storefronts and restaurants, large offices, schools, hospitals, industrial plants, and other commercial complexes.
When you choose us as your commercial HVAC professionals, you are taking advantage of our company's dedication to having the most highly trained and extensively certified technicians in the industry.
No matter the size or scope of the project, we provide services that help our clients with budgeting-starting from the initial planning stages of the project all the way to installation and beyond.
Our staff have the experience and training to install, maintain, and repair every brand of HVAC unit currently on the market — and our commitment to continuing the education of our staff means when new technologies emerge, P&E Mechanical will be at the "cutting edge", finding you new ways to keep your bottom line in better shape than ever.
For your business, this means no matter how small or large your endeavor — whether it's a new installation, an expansion to help your business grow, or repair and service work to help maintain your HVAC to keep it running in top condition to prevent interruption — you can count on P&E Mechanical for our exemplary levels of service and value and our promise to put the needs of your business first.
Your Partner In Commercial HVAC
Services
There are few outlays in business that compare to the capital expense of your heating and air conditioning system. One of the ways we help our commercial HVAC services customers is by styling our relationship as not just a commercial air conditioning service provider, but as a partner in maintaining those systems, dedicated to finding ways to get the most out of that initial investment.
What might seem to be minor maintenance issues in most air conditioning systems can add up to costly inefficiencies in commercial HVAC setups. Over time, even small inefficiencies can add up to significant operational costs that could have been prevented with simple maintenance performed regularly and at a fraction of the cost.
What's more, routine maintenance scheduled at regular intervals allows our highly trained service technicians to identify and diagnose problems as they emerge — before those problems have a chance to develop into more costly issues requiring extensive repairs.
Unlike some commercial HVAC companies who are competing for your business for a single service call, P&E Mechanical is a locally owned and operated commercial air conditioning repair and service company that wants to be your business partner throughout the life of your HVAC system — and we'll do everything possible to ensure that system will exceed your expectations for longevity and efficiency.
We have a reputation to uphold, and are constantly finding ways to raise the bar within our company and across our industry. If you'd like to learn more about how P&E Mechanical can meet your goals on whatever commercial HVAC needs your business has, contact our office today!
---
Commercial Plumbing Services
P&E Mechanical is committed to providing outstanding plumbing services for clients in the commercial and residential industries. Whether it's new construction or pre-existing repairs, you can trust the experienced professionals at P&E to get the job done.
We have a solid reputation servicing both new and pre-existing residential plumbing requests and utilize current industry standards and practices for each job we perform. We install fixtures such as faucets, toilets, drains, water softeners and beyond, and pride ourselves on our professionalism and experience that we bring to each job.
You can count on P&E Mechanical for commercial HVAC services work to be completed in a timely manner with upfront pricing without any hidden fees.
Have questions? We are happy to take the time to answer all your questions before, during, and after your work has been completed. Contact us today!
Industry Leading Customer Service in Waco, Texas
Quality Service. Satisfied Customers.